Types of men's shoes
Men's shoes are the theme of the river (women's - the ocean). To avoid snatching the sun in this text I will only deal with less formal footwear. Anyway, to raise the subject of shoes for a suit is like opening a Pandora's box. Therefore, in this post I will deal with less formal footwear, starting with sports.

Men's sport shoes
In the case of men's sports shoes, various wars are underway. One between the followers of New Balance and Air Max. The second is still between the Converse lovers and those who say that it is not worth spending so much money on one-season sneakers. Later, we have Adidas and Puma followers. Personally, neither Adidas nor Puma ever did me. I associate Nike and New Balance much better. As for Convers, it is true that for the price, their quality leaves much to be desired. I myself had this unpleasantness to smash them in one summer (without great exploitation). And with New Balance and Air Max, well ... a matter of taste, because anyway, every user of both brands always praise what comfortable shoes.
Below, an overview by various models and brands of men's sports shoes in the spring. In addition to the above-mentioned brands, I've added such no-names (or unrecognizable brands), which will certainly be of inferior quality but much cheaper.
How to wear sports shoes?
If I were a "classic fascist" I would write that sports shoes are worn only during ... playing sports. Possibly for jeans and T-shirts and sweatshirts. But below you will see examples that sports shoes can be combined with a shirt or even a jacket. If you do it with sensitivity, the effects are really promising. Such a style in which sports shoes are combined with more formal elements of a male wardrobe is sometimes called "smart casual" (in other words, this way of dressing is part of this style).
A positive example
There are no major problems with connecting the jacket with sneakers. You can stick to even classic rules (like in the second picture: shoes and a belt are the same color). In completely unofficial designs (the last one on the right) you can choose the color of your shoes even for a T-shirt. In the latter example, it would look even better if the shoes had a black accent (it would fit perfectly with a T-shirt).
Negative example
A tip for people who want to start playing in colors (worth a try): start with some more subdued colors, so that you can slowly pick up the feeling. And if you want to splurge with some strong color, try to add some element in the same color. Do not combine colors if you do not have experience.
Half-faceted shoes
The prototype of moccasins (as probably everyone has heard somewhere) is Indian footwear. These shoes are characterized by the fact that they are (usually) un-laced, have no uppers and are flat (they do not have a heel). It is commonly believed that socks should not be worn with moccasins, which is not an absolute truth. The feet can fit nicely to moccasins, you can also buy the so-called. "Low feet" that cover only the lower part of the foot and you will not see them when you put on the footwear (see photo on the left). I'm talking about it because sometimes it's just too cold in the spring to parade without any protection on the feet.
Espadrilles (like moccasins) flat shoes, resembling home slippers (they do not have shoelaces). Their most characteristic feature is that their sole is woven from a string.
Sailors (or sailing shoes) are a kind of version of moccasins, characterized by interwoven along the upper part of the shoe with a leather thong.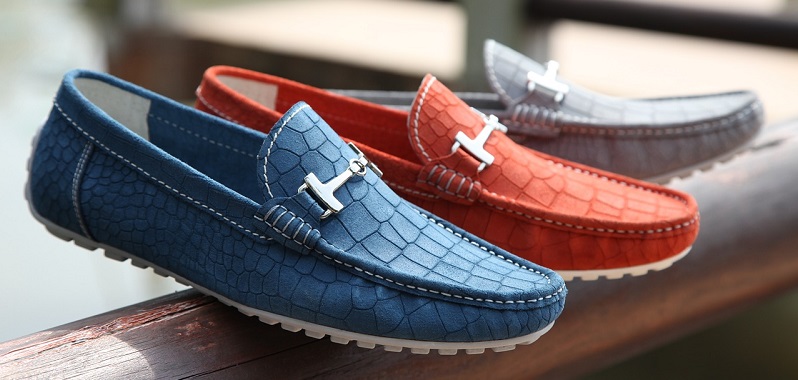 How to wear moccasins, espadrilles and sailors
In fact, in the case of such low footwear, the case is very similar to the examples that I gave earlier (mainly focused there on tennis shoes, less on sneakers, which are higher). If you only go all your life in sports footwear, it is worth considering whether it is not worth changing your style. Moccasins, espadrilles and sailors are a very comfortable type of footwear perfectly suited for spring and summer. Low boots, rolled up trouser legs and you're an elegant guy.
If you decide to buy shoes online, do not forget to look through the store to find the exact sizes of your shoes. The most important thing is that they give the length of the foot at the given size of the shoe. In this way, it's really hard to go wrong and pick the wrong number. I ordered a few pairs of shoes from the United States and, guided by the length of the foot, I have never bought a shoe in a bad size.