Types of men's shoes
Summer is a long-awaited period during the year for most men. Warm weather is conducive to activity and, of course, being free from work and long travels. Summer is also a time when a lot changes in men's wardrobes. We take out light, airy shoes or other types depending on the weather and circumstances.

In the following guide you will learn many interesting facts about men's summer shoes. We will present you with suggestions for various situations. Let's start.

What is worth knowing about footwear for holidays?
A huge number of factors affect the choice of men's footwear for this unique season of the year, which is summer. The weather and the activities we will be doing are probably the most important. After all, we will not wear sandals for evening walks during summer frosts. Similarly, flip flops are not a good idea when mountain climbing, even on the hottest days.
What men's shoes for the beach?
So let's start with the place that is probably most associated with summer recreation, i.e. the beach and water.
Some beaches, e.g. in Croatia, are sandy, and between small pebbles there are ... sea urchins, whose spikes sticking into the foot cause big pain and great discomfort. Specialist bathing shoes will be required here.
However, if we are going to a beach where dangerous marine animals are not waiting to attack - we can bet on classic flip-flops or comfortable sandals. Definitely avoid suede beach shoes. Sand that settles on a delicate material can become almost impossible to remove completely!
What men's footwear for traditional holiday activities and sightseeing?
Summer is, of course, also a great opportunity to visit places that we have wanted to see for a long time. Especially in cities famous for their tourist character, we will need comfortable footwear. If you are planning a trip so full of steps, sport shoes will certainly be a good choice. Team it up with stylish shorts, a classic printed t-shirt, a sun hat and sunglasses - and you've got your summer tourist look ready!
What men's footwear for bad weather?
In many places, summer is not only a time of sunny weather, but also of heavy rainfall. Sometimes the weather can be really changeable, which is worth preparing for, especially during long hikes. Waterproof shoes are essential if we have to be outside in such weather.
What men's footwear for a trip to a restaurant?
Summer is also a great opportunity to go out more often with your partner, colleague or friend to a restaurant. In seaside resorts, of course, there is a less formal dress code, but a lot depends on the very nature of the restaurant. If we are going to an elegant and more expensive one - we should dress in a more formal way.
As a rule, sports shoes, jeans and a T-shirt with short sleeves are sufficient. Summer is also associated with sneakers, which will also work well in this composition - especially with a polo shirt.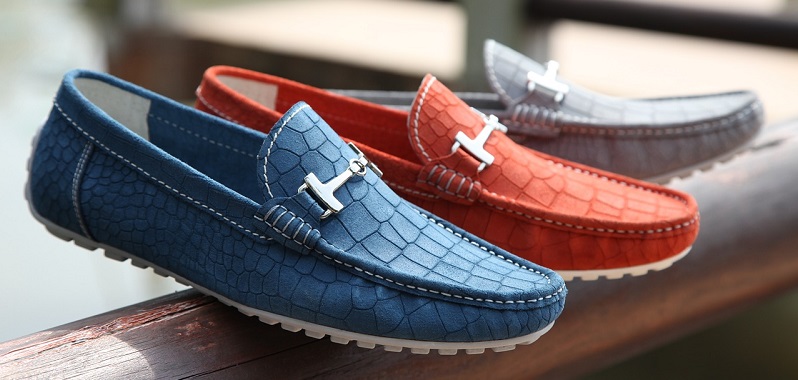 In the summer, comfortable moccasins combined with chinos will also work. Plus a men's floral shirt. An outfit that looks good and is extremely comfortable for a visit in restaurant.
What footwear for mountain trips?
Enthusiasts of mountain hiking very often decide to conquer successive peaks in the summer - the conditions are more favorable and safer than in the winter. Here, hiking shoes are required, in which the sole will be non-slip. In bad weather, it is worth putting on special crampons that limit the possibility of slipping as much as possible.
How to care for men's summer shoes?
Summer shoes, due to the rather demanding conditions, are exposed to faster wear if we do not take care of them. Sand, moisture and activity are not conducive to maintaining good visual qualities of footwear for the summer.
How to take care of summer shoes?
Do not put shoes in the washing machine
Use a shoehorn to avoid stretching the material
Shoe conditioners keep their aesthetic appearance longer
Store your shoes in a dry place out of direct sunlight.
Summary
The choice of men's footwear for the summer is dictated by various factors. Take into account the dress-code of the place, plans and what type of activity we will be doing - and this is a major part of success!