Jeans
Within the scope of this article, we would like to touch upon an issue that may be a bit problematic for people willing to purchase items of clothing in brick-and-mortar, as well as in online shops. We are of course talking about jean size chart. Why is it so problematic and still causes so much confusion? The main reason behind it that is that there are two remarkably distinct tables that one should be familiar with, namely - women's jeans size chart and men's jeans size chart. They differ from each other to quite a notable extent and that is why we have decided to publish this article - in order to clarify some doubts and making shopping-related undertakings much easier for customers. Let us dive in, shall we?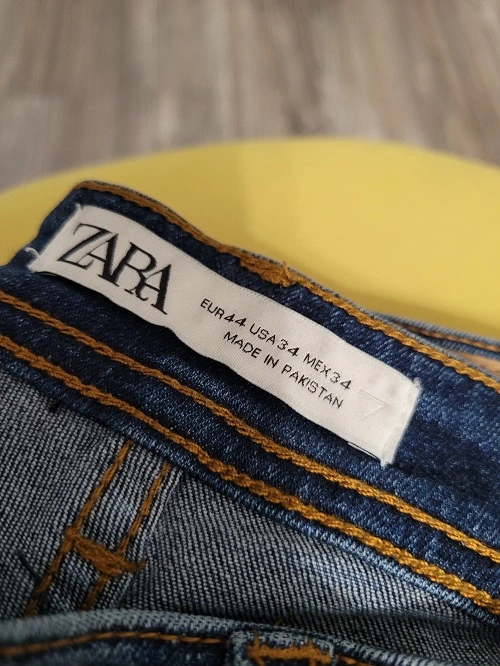 What body measurements should I take?
While discussing jean size chart, one has to remember that to be able to decode it properly, one has to be equipped with at least some basic measurements taken beforehand. When it comes to the item of clothing discussed here, the most crucial ones are undoubtedly width, also referred to as waist circumference (1), and the length of inner leg (2). They are both provided on labels attached to jeans, as well as make it much easier to decode women's jeans size chart and its male-oriented counterpart, as we may come across, for example 32x30 item included in the table.
Please note that width is always provided first and length is specified second, not the other way round! Sometimes, producers opt for one size indicator only - then it will typically be width. What is more, we have to be prepared to compare the sizes provided with different labeling systems, such as the letter-based one that is so popular in the US. It starts from XS and ends on XL or XXL even. Interestingly enough, the US-based women's jeans size chart may also include standard sizing specified by the use of a single digit, for example - 4.
How to choose men's jeans size?
In the majority of men's jeans size charts, the smallest size is 26, with the biggest one being 60. If we know what size we typically wear, we will surely have no remarkable difficulties converting it into different ones that are characteristic for various countries we may find ourselves in. For example, it is worth knowing that the first of sizes specified above corresponds to XXS in the SML standard, whereas size 60 may also be expressed as 6XL.
The 26 size is typically characterized by width oscillating around 26 to 27" and length of 33-34". While taking into consideration the second most extreme example from the scale of men's jeans size chart, its width is typically 60 or 61" and length is approximately 67 or 68". Of course, as one may rightfully guess, there are many more sizes and dimensions in between, as the producers to their best to adjust their products to the biggest group of prospective recipients possible. What is more, it has to be mentioned here that in the case of most prestigious shops and online stores, men's jeans size charts are regularly updated and modified in order to reflect current trends in fashion and the specificity of the target group such items of apparel are addressed to. We are more than happy to see such changes being introduced, as they make it much easier for even the most confused customers to find the right items for themselves!
Men's jeans size chart
| Jean Size (W) | Size | Waist | Hip |
| --- | --- | --- | --- |
| 26 | XXS | 26-27" | 33-34" |
| 27 | XS | 27-28" | 34-35" |
| 28 | XS | 28-29" | 35-36" |
| 29 | S | 29-30" | 36-37" |
| 30 | S | 30-31" | 37-38" |
| 31 | M | 31-32" | 38-39" |
| 32 | M | 32-33" | 39-40" |
| 33 | M/L | 33-34" | 40-41" |
| 34 | L | 34-35" | 41-42" |
| 35 | L | 35-36" | 42-43" |
| 36 | XL | 36-37" | 43-44" |
| 38 | XL | 38-39" | 45-46" |
| 40 | XXL | 40-41" | 47-48" |
| 42 | XXL | 42-43" | 49-50" |
| 44 | XXXL | 44-45" | 51-52" |
| 46 | XXXL | 46-47" | 53-54" |
| 48 | XXXL | 48-49" | 55-56" |
| 50 | 4XL | 50-51" | 57-59" |
| 52 | 4XL | 52-53" | 59-61" |
| 54 | 5XL | 54-55" | 61-62" |
| 56 | 5XL | 56-57" | 63-64" |
| 58 | 6XL | 58-59" | 65-66" |
| 60 | 6XL | 60-61" | 67-68" |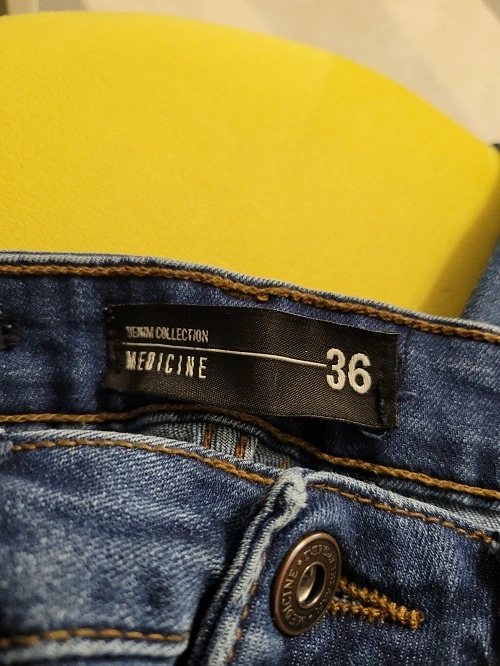 Women's jeans sizing guide - top tips
We would now like to proceed to women's jeans size chart, as we think that it should be discussed in separation, for it is characterized by a remarkable number of intricacies that should be addressed and elaborated on. To start off, it has to be stated that female sizes typically start from 23 and continue up to 42, which - in the SML scale - corresponds to XXS to XXXL sizes.
Interestingly enough, women in the USA may also take advantage of a typical American standard that ranges from 00 (size 23) to 26 (size 42). The smallest items of apparel of that kind are characterized by width of about 23.5" - 24.5" and length of 33" - 34.5", whereas the biggest ones are 42.5" - 44.5" and 52.5" - 54.5" respectively. It means that if we come to a given shop or visit a specific, preferred website equipped with those basic measurements, we should have no difficulties at all purchasing the desired jeans basing on women's jeans size chart.
Women's jean size chart
| Jean Size (W) | US Size | Size | Waist | Hip |
| --- | --- | --- | --- | --- |
| 23 | 00 | XXS | 23.5" - 24.5" | 33" - 34.5" |
| 24 | 0 | XXS | 24.5" - 25.5" | 34" - 35.5" |
| 25/26 | 2 | XS | 25.5" - 27.5" | 34.5" - 36.5" |
| 27 | 4 | XS | 27.5" - 28.5" | 37" - 38.5" |
| 28 | 6 | S | 28.5" - 29.5" | 38" - 39.5" |
| 29 | 8 | S | 29.5" - 30.5" | 39" - 40.5" |
| 30 | 10 | M | 30.5" - 31.5" | 40" - 41.5" |
| 31 | 12 | M | 31.5" - 32.5" | 41" - 42.5" |
| 32 | 14 | L | 32.5" - 33.5" | 42" - 43.5" |
| 33 | 16 | L | 33.5" - 34.5" | 43" - 44.5" |
| 34 | 18 | XL | 34.5" - 36.5" | 44.5" - 46.5" |
| 36 | 20 | XL | 36.5" - 38.5" | 46.5" - 48.5" |
| 38 | 22 | XXL | 38.5" - 40.5" | 48.5" - 50.5" |
| 40 | 24 | XXL | 40.5" - 42.5" | 50.5" - 52.5" |
| 42 | 26 | XXXL | 42.5" - 44.5" | 52.5" - 54.5" |
How to choose jeans so as not to return them to the store?
So far, we have explained jean size chart at least in basic terms, but now, we would also like to address yet another question that our representatives get asked quite frequently, namely - how to take measurements to be sure that shopping will be a pleasant experience and will not be connected with the necessity of returning bought jeans, which may be especially problematic when it comes to online purchases?
Measure width
To measure width, you simply have to take a measuring tape you surely have in your home or office and hold it level to your waist. Take measurements around your body and do not forget to write them down. Many customers think that they can remember the exact measurements for a long period of time, but it turns out that it may not be the case, especially with a remarkable number of tasks and responsibilities occupying their mind constantly on daily basis.
Jean length
Now, let us proceed to measuring jean length. In order to do so, you have to place the prior prepared measuring tape on the inner seam of the jeans leg or in other words - from the groin to the bottom. Write the result down as well…and that is it! Now all you have to do is to compare the data with the jean size chart available in a traditional or online shop and you are good to go! In contrast to measuring other items of apparel, it has to be said that taking measurements of jeans is a rather straightforward and comprehensible procedure.
Jeans does not equal jeans
One has to remember, however that not all jeans are created equal. Let us start from female-oriented items of apparel the women's jeans size chart of which we have discussed before. While browsing through such goods in a brick-and-mortar or in an online shop, one has to remember that they are available in a variety of styles and cuts. The most popular ones are:
regular fit,
relaxed fit,
loose fit,
skinny fit,
baggy fit,
slim fit,
and straight cut.
The skinny jeans that are so popular nowadays should be as close to one's skin as possible and highlight all the curves and unique features of one's legs. The loose jeans are especially recommended for ladies who love to feel casual, comfortable, and do not have to worry about following a highly specific dress-code. Of course, there are many more variants in between, including those highly decorated and designer-based ones, but we have decided to focus on the most popular and most commonly purchased ones only.
Men's jeans styles - what do we recommend?
We have recently discussed men's jeans size chart, so let us now check what styles of jeans can males choose from. It turns out that the selection is quite remarkable here as well! Gentlemen may decide to wear items of apparel that are characterized as:
boot cut fit,
regular fit,
baggy fit,
slim fit,
and drop crotch.
Similarly to those designed for women, male jeans may also fall in between certain categories. It is also typically considered to be in good taste to wear skinnier ones to formal occasions and those more baggy and relaxed ones to informal ones, for example - while going out with friends or focusing on performing one's tasks at home.
When is it worth buying jeans in a brick-and-mortar store?
We are fully aware that some of our readers may find it difficult or simply be unable to take proper measurements, make a definite decision on the type of jeans they would like to purchase, or find women's jeans size chart and men's jeans size chart extremely confusing. In such a case, it is strongly recommended to opt for the support of professionals that have perennial experience in the clothing industry - we are more than sure that they will be able to help each and every customer by patiently and comprehensively answering all the questions asked. It is especially the case when it comes to traditional shops, the representatives of which will surely be capable of informing us about the most common trends current season, differences between various cuts, as well as about sizes that will fit our body type in the most optimal manner.
We should also not hesitate to ask questions while making purchases in an online shop, especially before placing an order - it may help us avoid many problematic situations and forget about the burdensome return procedure that may, in some cases, take weeks or even months, especially if we decide to purchase goods abroad.
As you can see, the issue of women's jeans size chart and mean's jeans size chart is not as simple as it may seem at the first glance. There are many sizes to choose from, and depending on your country - you may even be required to deal with not one, but with many sizing standards, which may be even more confusing in the long run. That is why we have made a decision to publish this jean size chart-themed article in the hopes that it will help at least some of our readers familiarize with the topic a bit better, take proper measurements, and learn about the available cuts that are remarkably different from one another.
One last piece of advice from sizees.com
The final piece of advice we would like to give all of you is to focus on purchasing goods in well-known and positively reviewed shops. Only then can you be sure that the items of apparel you are about to buy are made of decent quality material and will serve you for at least several months without any problems. It may not be the case while opting for some suboptimal jeans, as even though they may be notably cheaper than their top tier counterparts, they may quickly lose their color and their condition may deteriorate quickly with each and every cleaning. We are of the opinion that when it comes to jeans, excessive savings should not be made, as they may directly translate into the dissatisfaction with the product bought and the necessity to visit a traditional or an online shop sooner than later. We know that many of our readers are too busy to do that and would like to avoid such a scenario at all possible costs! It is a much better idea to purchase jeans during sales organized by well-known brands, as then you may make some savings while at the same time being sure that you have become the happy owner of neatly made and sturdy items of clothing that will serve you well for many months to come!
Popular brands with jeans