Tie
How to tie a tie?

Let us imagine the following situation - you have successfully purchased a tie that is in line with the style of your shirt or suit basing on the available tie size chart and now you want to tie it properly. How to do so? The first step is to place the tie around the neck after prior making sure that its wider end is approximately one third longer than the narrow end. Then, you have to cross the wide end over the narrow end of your newly purchased tie. The third step when attempting to tie a tie is to loop the wider end of the product back underneath the narrow end. Once you do that, make sure to bring the wide end over the narrow end once more. Afterwards, make a knot and pass the wider end of the tie down through the loop in front. We are more than sure that thanks to our simple guide, you will have no difficulties tying a tie purchased basing on the available tie size chart of a company you are a fan of! Remember that there are various tying techniques and the provided one is not the only one you can take advantage of!
Tie Widths
| Type | Width | Build |
| --- | --- | --- |
| super skinny | 2" wide | slim |
| skinny | 2.5" wide | average |
| modern | 3" wide | athletic |
| traditional | 3.25" wide | broad |
Tie Lengths
| Type | Long |
| --- | --- |
| Boys | 48" long |
| Regular Length | 58" long |
| Extra Long | 63" long |
How long should a tie be?
As you are probably aware, there are various lengths of ties available on the market currently. It can be easily seen after taking a closer look at any tie size chart available online or in the traditional, paper form. In order to select the proper tie for you, you must check whether or not the item of clothing you want to purchase is similar in length to your jacket's lapel. What is more, there is also the necessity of establishing whether the product you want to buy can be considered proportionate to your body size, which is not always guaranteed. The last thing that you have to take into account is whether a particular tie - a long or a rather short one - is properly adjusted to your usual style. Experts state that a tie should predominantly serve as an accessory and should not draw the attention of people surrounding you, so avoid products that may seem too lengthy or too short while trying them on. Opting for a middle ground will make it possible for you to create an optimal, highly appealing outfit!
How do you determine your tie size?
Determining your optimal tie size is not problematic at all, providing that you decide to opt for the so-called tie size chart, thanks to which you will be capable of determining which item of clothing will be properly adjusted to your height and to the size of your shirt or suit. Without such a data sheet at your disposal, shopping session, either online or standard one, may be confusing and frustrating. To avoid that, never forget to take advantage of a tie size chart developed by experts employed by a given company or brand.
What is a standard tie size?
Standard tie size is predominantly determined by a tie size chart published on the website or available in brick-and-mortar shops of a given brand. Thanks to such data sheet, you can find a tie size that will be neither too long nor too lose and therefore - will fit your shirt or suit perfectly and will not stand out from your outfit. If you do not know how to establish a standard size of a tie, you can always take advantage of the knowledge and experience of professionals responsible for customer servicing in a given shop or online store.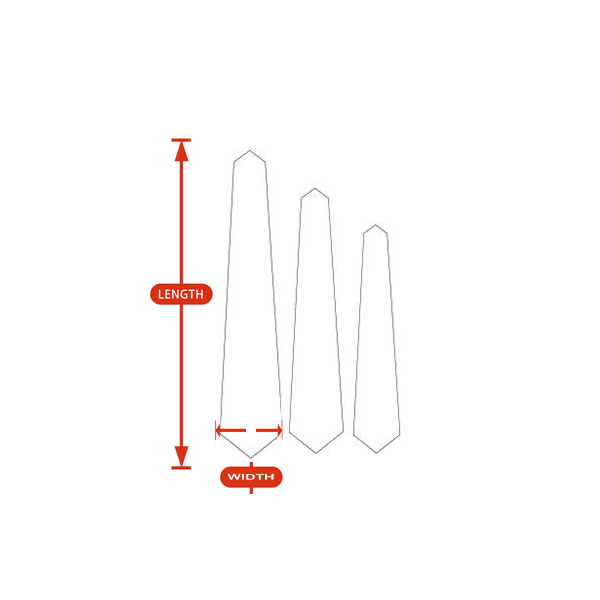 Frequently asked questions
How to measure tie width and length

The width of the tie is measured at the tip of the tie at its widest point as shown in the illustration above. Instead, you measure the length on a flat surface from the beginning to the end of the tie as shown in the illustration above.

How long is a size 8 tie?

The size between 8 and 11 is approximately 15.25 inches long.

How do you determine your tie size?