Men's pants size guide
While trying to decipher the size of men's trousers, you need to get hold of one important information - hip circumference. Sometimes a waist circumference may be useful, but it is rarely used nowadays. After checking it, take advantage of the tables below that incorporate the sizes of men's trousers and jeans to what size to opt for with your hip circumference. Remember that there are several types of men's trousers. You can check all of them here: Types of Trousers.

What does W and L stand for in sizes?

The letter W in the abbreviation of "width", while the letter L stands for "length". If you see 34W and 32L on men's pants, it means that the waist size is 34, and the trousers leg length is 32.
Men's pants size chart
Men's pants are widely purchased online, but before you make the same decision, we would like to inform you that the finalization of the order should be preceded with the familiarization with mens pants sizes and in some scenarios - additionally opting for men's pants size conversion guide that will help you select the right item for you that will be neither too loose nor to tight. It will ensure the exceptional comfort of use and remarkable customer satisfaction!
Size
XS
S
M
L
XL
XXL
XXXL
XXXXL
EU/IT
44
46
48
50
52
54
56
58
UK
28"
30"
32"
34"
36"
38"
40"
42"
US
28"
30"
32"
34"
36"
38"
40"
42"
Size
28"
30"
32"
34"
36"
38"
40"
42"
Low Waist
78.5cm
82.5cm
86.5cm
90.5cm
94.5cm
98.5cm
102.5cm
106.5cm
31"
32.5"
34"
35.5"
37.25"
38.75"
40.25"
42"
Hip
91cm
95cm
99cm
103cm
107cm
111cm
115cm
119cm
35.75"
37.5"
39"
40.5"
42.25"
43.75"
45.25"
46.75"
Inner Leg
85cm
85cm
85cm
85cm
85cm
85cm
85cm
85cm
33.5"
33.5"
33.5"
33.5"
33.5"
33.5"
33.5"
33.5"
Men's Jeans size chart
Men's jeans are undoubtedly one of the simplest items of clothing to purchase, but to be 100 % sure that the item bought will fit us in a proper manner, mens pants sizes have to be consulted. In some cases, there may also be the necessity of taking advantage of the so called men's pants size conversion calculator that allows to convert centimeters to inches and the other way round in a straightforward and undemanding manner. It is worth opting for the said solution to avoid dissatisfaction and the necessity to return jeans to the store.
Size
28"
29"
30"
31"
32"
33"
34"
35"
36"
37"
38"
Low Waist
76.5cm
79cm
81.5cm
84cm
86.5cm
89cm
91.5cm
94cm
96.5cm
99cm
101.5cm
30"
31"
32"
33"
34"
35"
36"
37"
38"
39"
40"
Hip
89cm
91.5cm
94cm
96.5
99cm
101.5cm
104cm
106.5cm
109cm
111.5cm
114cm
35"
36"
37"
38"
39"
40"
41"
42"
43"
44"
45"
Inner Leg
85cm
85cm
85cm
85cm
85cm
85cm
85cm
85cm
85cm
85cm
85cm
33.5"
33.5"
33.5"
33.5"
33.5"
33.5"
33.5"
33.5"
33.5"
33.5"
33.5"
Men's pants, jeans, trousers size conversion
Men's pants, especially jeans, are extremely popular when it comes to items of apparel available nowadays, but in order to be sure that the customers will become a happy owner of the exact item he wants, he has to opt for trousers size conversion sometimes. It turns out to be highly useful and beneficial especially in the case of shops that offer pants with all the measurements taken in inches or in centimeters exclusively. Then, a comprehensive conversion-oriented table or chart may be a true life saver!
US men's size pants to EU
| US | European |
| --- | --- |
| 30 | 46 |
| 32 | 48 |
| 34 | 50 |
| 36 | 52 |
| 38 | 54 |
| 40 | 56 |
| 42 | 58 |
Centimetres men's size pants to Inches
Sometimes mens pants sizes are provided in centimeters, but in order to finalize the purchase, we have to know their size in inches. What to do then? In the discussed scenario, the most viable option is to go for men's pants size conversion that is frequently available in the form of a comprehensive data sheet on many websites, as well as in a number of traditional brick-and-mortar shops that you may visit in order to purchase said items of apparel.
| Size | CM | IN |
| --- | --- | --- |
| X-SMALL | 77 | 30 |
| SMALL | 82 | 32 |
| MEDIUM | 87 | 34 |
| LARGE | 92 | 36 |
| X-LARGE | 97 | 38 |
| 2X-LARGE | 102 | 40 |
| 3X-LARGE | 107 | 42 |
| 4X-LARGE | 112 | 44 |
How to measure mens pants?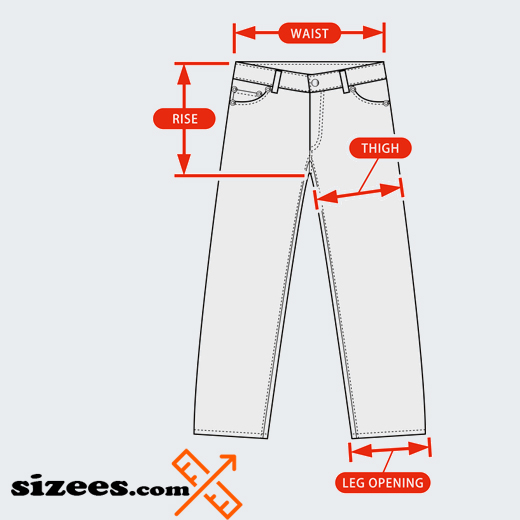 Mens pants sizes tend to vary from shop to shop, but it has to be mentioned that in order to understand men's pants size conversion in a proper manner, it is highly important to take measurements before proceeding to purchasing a given item of apparel. The key parts of pants that have to be taken into account are waist, leg length and total length. If you have said data at your disposal, you will surely have no issues with regard to purchasing fitting pants in a local store or via the Internet!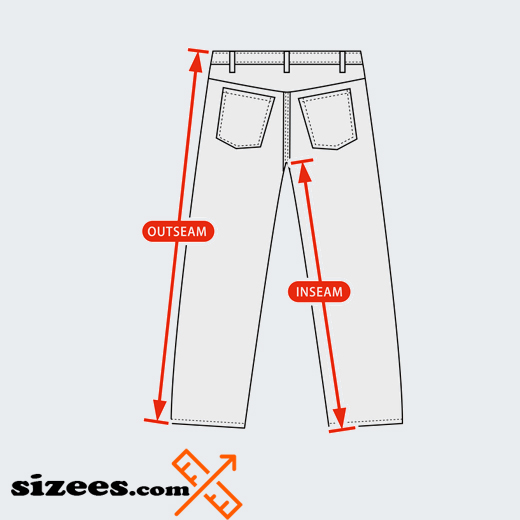 As you can see, everything is easier when you have all the required pieces of information and can compare them by taking advantage of the provided table. Please remember that some manufacturers may have their own measuring standards that may be completely different from the ones presented above. In such a scenario, it is the best solution possible to consult the website of the manufacturer or contact its representatives directly to learn more about the scheme you should opt for. It is vital to be sure that the trousers you want to purchase will fit you, especially while buying a given item in an online shop, in the case of which it may be difficult to request a refund.
Nevertheless, we are sure that if you consult our table and take measurements in a proper manner, there will be no difficulties with purchasing items of clothing you really want to have in your wardrobe. You may even opt for tighter pants to highlight your fitness or for loose ones if comfort and pleasure of wearing trousers are your top priorities!
People also ask
What does men pant size 32x32 mean?

Pant size 32x32 means that the waist circumference of the pant is 32 inches and the inseam is 32 inches.

What size is 34 mens in jeans and pants?

The size 34 on the pants label means it's a waist size of 34 inches (US) or 86 cm (EU).

What size is a 32 waist in men's pants?

The first step to find the size of a 32 inch waist pants is to measure the size of your own waist. Then, if you're going by inches, subtract 2 inches from your measurement. The number of inches that you have left is the size that you should purchase for a 32 inch waist in men's pants.