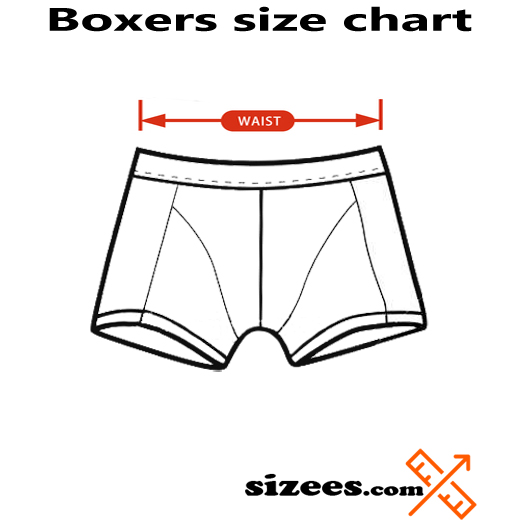 How to measure boxer size?
We know that many individuals visiting our website on daily basis have been looking for a comprehensive guide on how to purchase proper boxer shorts. Boxers size is very important to check before making a final purchase, as said item of underwear has to be comfortable, meaning that it cannot be neither too tight nor too loose. Fortunately enough, many companies have developed proper boxers size chart that will allow inexperienced customers to make informed decisions basing on prior taken measurements. Data sets published online incorporate key values in two basic standards, namely - in centimeters and in inches. The key issue to take into account is the fact that a proper underwear should fit your waist just perfectly. It is also worth taking into account the material boxers are made out of. It should be comfortable to wear for a prolonged period of time, as well as resistant to tearing and loosening with time. Therefore, to be fully satisfied, a customer should make purchases in brick-and-mortar, as well as in online shops managed by prestigious brands that have perennial experience in the field and that have gathered a number of positive reviews from their customers. Thanks to that, you can be sure that if you only focus on the right boxers size, you will be undoubtedly satisfied with the result of your purchasing endeavors.
Boxers size chart
| Boxers size | Waist (cm) | Waist (in) |
| --- | --- | --- |
| M | 76-86 | 30-34 |
| L | 86-97 | 34-38 |
| XL | 97-106 | 38-42 |
| XXL | 106-117 | 42-46 |
Boxers size can be checked by oneself and be based on measurements taken by a customer himself or herself, as well as be taken by means of asking a representative of a particular shop or a friend. In such a case, the risk of making a mistake and buying an improper item of apparel will be negligible. If you are unsure which item of underwear to opt for, you should always consult a boxers size chart of a particular company or brand. If it is not possible, do not hesitate to ask a representative of a given firm for help, as you will then be able to gather some additional pieces of information that may turn out to be crucial and have all of your doubts dispelled.