Many men wonder what shoes can be combined with jeans? Are there only sneakers to choose from? Not! There are many other types of shoes that are perfect for jeans. You can prepare an outfit with them in a casual, smart casual or semi-formal style.

That is why we have prepared a guide on this topic that all men can use. We will present types of shoes that work well with jeans, and on the other hand, those that are better not to wear.
What shoes go with jeans?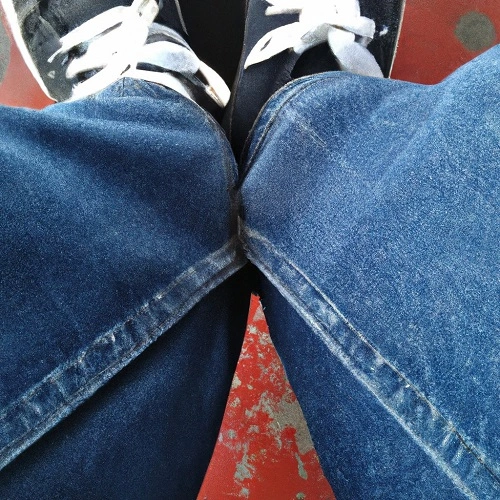 Jeans are a universal type of men's trousers. They can be worn both for more or less formal occasions - of course, as long as the dress code of these events does not require an official outfit.
However, when it comes to shoes that match jeans, men sometimes feel a little constrained.
The most popular type of footwear for jeans are sneakers. They match almost any jeans. If you want to present yourself a bit more formally, but in a streetwear style, i.e. with simple jeans without a welt at the bottom - you can put on, for example, darker sports shoes with a straight sole.
In turn, outfits with a dress shirts deserve elegant chukka boots in combination with a dark coat. The peak of nonchalance combined with mystery.
You can also opt for Chelsea boots, which, despite their similarity to chukka boots, match even more elegant styles. Chealse owes its unique character to such music groups as The Beatles, Rolling Stones and others. Here, however, opt for dark jeans and a jacket, which will guarantee a higher level of official look. Although, as the saying goes, there are always exceptions to the rules.
What shoes don't go with jeans?
Now that we've covered what shoes go well with jeans. It is worth being aware of what shoes ... do not fit them. We will mention very few such cases, because jeans are a very versatile type of clothing - as we mentioned earlier.
However, certainly do not wear elegant patent leather shoes and not only with jeans, but with any type of casual trousers. Such footwear fits only such formal outfits as a tuxedo.
You also have to be careful with moccasins. The more unique the styling, the greater the risk that you will look caricatured. So a lot depends on two things: what loafers and jeans we are talking about. It is also important what are the features of your figure and whether the outfit really reflects who you are - you can assess it by checking whether you feel confident in particular outfit.
Most popular calls
Below we present the most popular connections broken down by weather conditions. Keep in mind that a lot depends on the occasion though.
Hot summer days
If you're going to the beach, wear denim shorts in combination with sports shoes or sneakers. There is practically no chance of making a mistake here. Almost any type of jeans will be suitable for these shoes. Both ripped, joggers and more.
Autumn Spring
When the temperature outside the window drops to single-digit values, men's stylizations can become more elegant. Here, classic jeans without a welt will work - if, of course, we are talking about such footwear as Chelsea, Chukka Boots or moccasins then opt for dark jeans instead.
Winter
In fact, winter outfits do not differ much from autumn-spring outfits. Of course, you need to take care of greater thermal comfort, but it's enough to add a coat to the autumn coat and we have the perfect outfit for this time of year.
Summary
The principle of matching shoes with jeans is quite simple. The more formal the footwear, the darker jeans we should wear. With elegant shoes, as a rule, let's forget about worn jeans with holes - there is a good chance that it will look kind of grotesque.
One thing is certain though. Experiment and try. Consider other people's opinions about your appearance, but don't take them to heart. Praising good style from the opposite sex will also give you good feedback!
Another issue is checking the cut of the pants using size charts. Do not forget that with this type of clothing, a lot depends on the fit.
See also: